Message from the AMYAC Board
Welcome to the second members newsletter from the AMYAC Board. In this issue we provide an update from the AMYAC Directors, Community News, AMYAC Group News, New Initiatives and Coming Events and Strategic Targets for 2023.
Director's Update
AMYAC held its Annual General Meeting (AGM) in Coober Pedy in November last year. The AGM was well attended, and members had commended the board for the progress made since the 2021 board meeting. Some of the key issues to come from the meeting was that members did not want to move away from MLC S as the Trust Executive Office service provider, members wanted more feedback on the PAYG electricity scheme, members wanted AMYAC to develop an Employment and Training Strategy, and there were several members who believe they did not receive a Historical Hardship payment. These matters will be discussed in this issue.
There were two changes in Directors and two new Directors were elected and we welcome Maisie Winton and Joseph Lennon Jnr to the board for two (2) year terms. David Brown was voted by the board as the new Chairperson and Andrew Dingaman was returned as the Vice- Chairperson. All four (4) Directors are very experienced and are across the strategic direction of AMYAC as are the rest of the board.
Community News
Reconciliation Week
This year Reconciliation Week this year is from May 27 to the 3rd of June. The is year's theme is "Be a Voice for Generations" and encourages all Australians to be a voice for reconciliation in tangible ways in our everyday lives, where we live, work and socialise. Keep an eye on our website, and keep your eyes and ears open for events in your communities.
NAIDOC Week
NAIDOC week will be held between 2nd of July 2nd to the 9th of July. It is a time for celebrating the achievements of Aboriginal people and coming together as a community. This year's theme is "For Our Elders!". Keep an eye on our website, and keep your eyes and ears open for events in your communities.
The AMYAC Trust can support community events via small grants but please be reminded that the Trust Advisory Committee (TAC) only meet a small number of times during the year. Therefore please contact the Trust Executive Office first to see when the next TAC meeting is and when you should apply for support. TAC requests should be lodged as early as possible, so that the TAC has time to receive and consider your requests. If you are thinking of applying for support for a Reconciliation Week or NAIDOC Week activity or event, you need to be applying now. The Trust Executive Office contact number is (08) 8349 0830 and email is trust@amyac.com.au. The remaining TAC meeting dates for 2023 are listed below, (but may be subject to change)
11th of May
10th of August
2nd of November
Coober Pedy has "Stars on Mars" fever
There is a real buzz in Coober Pedy at the moment due to an International Film Production crew in town to film a reality series called "Stars on Mars". The series is currently producing its first series with American celebrities, and rumours of some big named movie stars being involved. They are looking to produce UK, Spanish, French, German and many other versions here in Coober Pedy as well. The exciting part is that they are bringing increased economic activity into Coober Pedy. They have set up their main film set within the Umoona Community Basketball Court and as apart of the use of the stadium are undertaking repairs and upgrades on the stadium at their own cost. It has also been a benefit to AMAYC as well, as we have given them a short-term licence agreement to set up their workshops at the rear of Lot 715, and licenced them to have yard storage on site. In return they are not only paying a licence fee, but they have undertaken a yard clean up, fixed up our security gates and fencing, upgraded our main electrical board and other minor works within the tenancies, at their own cost. They are also employing locals and using contractors that based in or have a connection with Coober Pedy. One of their contractors is Macweld Cranes, which is a business 51% owned by AMY Nominees and 49% Fleurieu Cranes. They have also been very easy to deal with and flexible to our needs. If you live in Coober Pedy Community and are interested in work you can call AMYAC on 0497 717 610.
Above: L-R 1. Production crew tradesmen working on film set items in Lot 715 Tenancy C (previously the 2nd hand store), 2. Umoona Community Basketball Stadium now a fenced off film production site, and 3. Clint and Roy from Macweld Cranes
BHP to Acquire OZ Minerals
OZ Minerals' Shareholders have voted in favour of BHP's acquisition of OZ Minerals at the Scheme Meeting held on 13 April 2023. BHP has indicated their priority is minimal disruption, care for people and a focus on safety. For now, it's business as usual, and we're committed to safely delivering our business plan.
Member Profile – Garry Crombie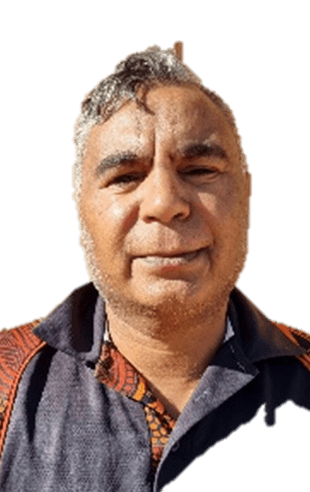 In this edition, we talk to Garry Crombie (pictured), an AMYAC member based in Coober Pedy. Garry works as a school attendance worker for the Remote Area Schools Assistance Scheme (RSAS) team in Coober Pedy. He is currently the Deputy Chair of the Breakaways Committee, a Director of Umoona Tjutagku Health Service in Coober Pedy, and is a sitting member of the State's Aboriginal Health Council (AHCSA). Garry has also worked in the mining industry for 6 years, and as a health programs officer and activity coordinator for 6 years. On top of this, Garry is a kinship carer for two young ones.
Garry, can you tell us what you like about your role? " I like that we are involved in assisting and supporting Aboriginal students and their families to help our young ones increase their school participation."
What changes have you seen since you have been working for RSAS? "I have definitely seen a large increase in Aboriginal kids attending school, but not just attending but actively participating at school. I think the RSAS service has played a key role in that."
What is the big dream for you or RSAS and or the community? "I would like to see attendance and participation continue to grow and for our young ones to achieve their dreams, whatever they may be."
Have you used AMYAC services recently, and is there anything you would like AMYAC to achieve or do better this year? " We have used the AMYAC Troop Carriers for men's cultural business and the AMYAC cultural assistance fund from the AM-YAC Trust; this helps us men to undertake important ceremonial business. AMYAC are doing okay; they need to keep members informed of the progress of Native Title matters and continue to support the Aboriginal people not just in Coober Pedy but in the region and other places where our members are."
It was a pleasure chatting with Garry as he is well respected in Coober Pedy and is known for putting the community first in all that he does and he is particularly keen to support the younger members of the community.
AMYAC Group News
AMY Nominees Updates
AMY Nominees has a new starter, Terri Coulthard. Terri has been appointed as the Aboriginal Employment and Training Coordinator, and her start date was the 1st of March 2023. Terri states:
"I have been living in the Flinders Ranges for the last thirty years with twenty years spent working at Wilpena and Arkaroola in hospitality and tourism. For the last five years I have been working in Employment programs with three of those working with young people to get the skills needed to for the job they want. My partner works at Prominent Hill as a Dump truck operator and says when need more community people up there working. So if you have a resume send it through to terri@amynoms.com.au or give me a call on 0480 410 599 and have chat about what work you want to do and lets work out how we can make it happen!
Hope to be in Coober Pedy during April, so come and say G'day and I love country music, so if you have a guitar handy"
AMY Nominees now has an office in Port August, above is a picture of Terri's view from inside the office
We look forward to working with Terri and delivering increased opportunities.
AM-YAC Trust News
The revised AM-YAC Trust web pages and online application forms are now live. You can see them here https://amyac.com.au/trust.
The Trust is also reviewing the Historical Hardship fund, importantly, it is not re-opening the Historical Hardship fund, however, Members who applied prior to 2009 and were placed on a Historical Hardship list, As of 13 November 2009, no new names can be added to this list. However members can now make an online enquiry as to whether or not they were originally on the Historical Hardship list, but did not receive a payment. Enquiry forms can be accessed at https://amyac.com.au/trust/community-assistance/
OZ Minerals Scholarships
OZ Mineral's Scholarships are open and available, categories include:
University
Tertiary (Non University)
Highschool
Primary School
Tutor Support
Special Education
Assistance with sporting events
Adult Education
Applications are open and can be accessed at https://amyac.com.au/trust/community-assistance/
Strategic Targets for 2023
The Board has set 5 Key Performance Targets for 2023 and they are drawn directly from AMYAC's Strategic Plan. They are as follows:
KPI 1. PROMOTE AMYAC EMPLOYMENT (initiative 5.4)
KPI2. EDUCATION PROJECT (Initiative 1.3)
KPI 3. PROJECT MANAGEMENT OFFICE (Initiative 3.3)
KPI 4. OUR PLACE PROJECT (initiative 2.1), and
KPI 5 – TRANSPORT SUPPORT (Initiative 1.6)
Work has already begun on all KPI's. An Employment and Training Strategy is being developed that goes beyond just presenting job ready applicants to our stakeholders for jobs. It involves mentoring, coaching, post placement supports, and workshops for supervisors about how to effectively recruit and retain Aboriginal employees. The Education project will seek to promote the OZ Minerals Scholarships and aim to increase the number of AMYAC members receiving a scholarship by the end of 2023. The Project Management Office Initiative will see attention focussed on establishing an AMYAC Projects Office in Coober Pedy this year. The AMAYC Coober Pedy Office and services will continue to grow in 2023, with upgrades and repairs at Lot 715. While the Transport Support Initiative will receive a new 4.5 tonne Pantech freight truck by the middle of the year and will commence the free members freight service through the Trust Executive Office and the AMYAC Coober Pedy Office.


For further information contact Michael Pagjansan on (08) 7721 1690, or info@mpslaw.com.au or

Michael Coughlan, on 0497 717 610, or michael@amyacrntbc.com.au
To receive an electronic copy of this newsletter, please email info@mpslaw.com.au.
AMYAC member key contacts: